It is never nice to generalize, but as someone very smart once said, "It is not a generalization if it is true." It seems to me that most woodworkers are also generally pretty "handy" people. And as "handy" people, it is galling to hire someone to do something we know we can do. But...

Events conspired to put me very far behind on some projects that had as by-products, a pretty high annoyance factor. Remodeling the other half of the upstairs of my home required me to move most everything from upstairs to "alternative locations." Mostly, the living room downstairs. What a crowded mess! Annoying. But work on the vestibule (see the February 2017 edition of Wood News Online) took precedence because that is our primary ingress/egress point for the house. Add in a few woodworking projects, an emergency water heater replacement for a friend (super annoying), and a put-you-down-and-out sinus infection and it is easy to understand why my plate was overflowing. I therefore began to consider "hiring out" a couple of things just to help speed the process up a bit.

Half of the upstairs floor was already done, and if I do say so myself, it was well done. I had the materials to finish the balance of the second floor, the tools, and the skills, so all I needed was time... something in very short supply.

Thus I began casting about for a flooring installer. The old, "I know a guy who knows a guy..." led me to a name, that led to a phone call, a price, and a set date for the work. On the appointed morning, a truck backed into my driveway and I went out to introduce myself and meet my installer, Adam. He hopped out of the truck wearing shorts and a sweatshirt. The temperature was 10 degrees. I was bundled in a puffy coat and a polar bear cap. I assumed he would want to scurry inside right away, but he seemed perfectly content to stand at the back of his van and chat. I will never fathom how these native Wisconsinites stand the cold.

The van was very nice. I said as much. He then wanted to show me the inside. I shivered. He opened the two rear doors and my eyes went first to several Festool items...the battery-powered track saw, the drill/driver, the power planer, battery-powered jig saw, the dust extractor, and the two sanders I could see. I said, "Festool!" I almost forgot how cold it was.

He looked at me and smiled and asked, "How do you know about Festool?" We talked. I shivered. Teeth chattering, I finally said, "Let's go into my shop." During the short walk, he proudly told me that he was the first person in Southeastern Wisconsin to buy Festool tools... and he told me he still has his first Festool (a sander)... not one tool has ever "died."

We swapped Festool stories for a bit. He told me about his buddy who was remodeling a house and the customer wanted the carpet ripped off the stairs, the wood sanded down, and finished like the rest of the hardwood floors in the house. The carpet was glued down, and after ripping it up (with much glue residue left behind) he found the stairs had, at some point, been painted... several coats, different colors. He started sanding. With 40 grit sandpaper, his big-box store sander burned out on the second step. He grabbed his other sander and it died on the third step. He hoofed it to the big box store and bought another, and on the fifth step the new sander burned out. Hearing what happened my flooring installer told his buddy, "Take my Festool sander." His buddy resisted... "No, I don't want to burn up your expensive sander." He said, "Just take it." He did, and he sanded all the rest of the thirteen steps with no problem. He still has that sander and it still works perfectly. He said, "Sure, Festool stuff is expensive, but you get what you pay for."

Over the years, Adam has upgraded some of his Festool equipment opting, when available, for the battery-operated versions since he prefers working without extension cords all over the place. Adam uses the Festool TSC 55 REB Cordless track saw and a Guide Rail to cut off the bottoms of doors when he installs flooring. Sometimes if just a bit needs to be removed he uses the HL 850 E 3-1/4 inch planer, but mostly he uses the planer to taper pieces of hardwood flooring when a room is not perfectly square. He uses the PDC 18/4 QuaDrive Cordless Drill for "all sorts of stuff." The Carvex PSB 420 EBQ Jigsaw makes intricate flooring cut-outs with ease.

The Rotex sanders get used for all the close-quarter finishing work on real hardwood floors. His HEPA dust extractor keeps the work space clean and makes his customers happy.

I showed my flooring installer the second floor spaces, the stack of materials, and left him to it. Seeing all those Festool tools, I wasn't worried that the job he did would be any less than perfect. I knew I was in good hands. And he did an outstanding job in record time.

Now, to some it might sound "snobbish" to say I was confident in the installer's capabilities based on the tools he had, but that would be interpreting my comment the wrong way. I think of it this way... my installer is a good enough businessman to understand that in the long run a Festool tool is actually a better investment than any other tool you can buy, simply because it lasts forever. And a good businessman knows that to stay in business, you have to do good work and price it fairly. Therefore, knowing that the installer was a savvy business person gave me the confidence that he would do a good job... his collection of Festool tools simply confirmed that he was indeed a smart businessman.


---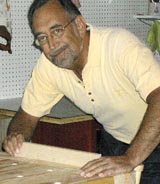 Steven Johnson is retired from an almost 30-year career selling medical equipment and supplies, and now enjoys improving his shop, his skills, and his designs on a full time basis (although he says home improvement projects and furniture building have been hobbies for most of his adult life). Steven can be reached directly via email at sjohnson@downtoearthwoodworking.com